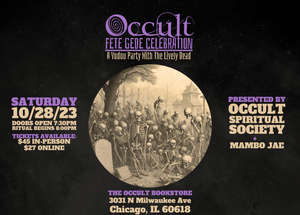 Occult Fete Gede Celebration: A Vodou Party with the Lively Dead
Regular price $45.00 Sale
The Occult Fete Gede offers a rare opportunity to receive transformational healing directly from the Vodou divinities of the Lwa of death and resurrection.
Individual messages and direct consultations with a Lwa will be available yet not guaranteed for everyone.

The lively rhythms and dances of the Gede celebrate some of the best parts of life, including sex and spicy foods. Join in traditional Vodou drumming and songs, as well as offerings for the lively dead.

We respectfully request that guests bring the following as offerings as they are able:
~Newport menthol cigarettes
~Cigars
~Rum
~Hot peppers

Please bring a purple cloth to cover your head.
Also wear something comfortable which is machine washable, and bring a change of clothes.
If you have allergies or other concerns, please attend online. The streaming event will also provide the opportunity for direct consultations of healing and council from the Gede.


**This is a 21 and over event. By purchasing a ticket to attend in person, the following disclosures are agreed to~

Risk: Attendees understand that there is an inherent risk of exposure to COVID-19 in any public place where people are present. Those attending voluntarily assume all risks related to exposure to COVID-19. 

Throughout the Fete Gede, there is a probability of spirit trans-possession.  The Fete Gede is also celebrated with baby powder and alcoholic aspersions. Likelihood is high that individuals will be coated by both. By attending in person, you agree to the above disclosures.